The Land Conservancy for Southern Chester County
Land Trust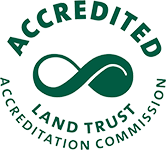 Mission or Purpose
The Land Conservancy for Southern Chester County focuses on establishing conservation corridors, protecting historic sites, providing walk-able communities through trail linkages, and offering ecological education and outreach programs for professionals, students, and under served members of the community. We like to think of our combined efforts as providing "TLC" for the environment, as well as for the residents of Southern Chester County. Our goal is to provide meaningful, hands-on interaction with the land, that not only feeds our bodies, but also nourishes our health, our creativity, and our spirits.
Contact Information
541 Chandler Mill Rd.
Avondale, PA, 19311
(610) 347-0347
http://tlcforscc.org
Organizational Information
Land Conservation Figures in PA
Figures accurate as of 03/22/2021
Notes
† Pertains to land that has been acquired by the land trust and then reconveyed to a local, county or state, state or federal government entity for conservation purposes.
‡ Other pertains to assistance in transactions including preparation and negotiation work and/or the reconveyance of land to another private conservation organization.