Allegheny Land Trust
Land Trust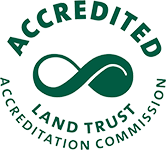 Mission or Purpose
Allegheny Land Trust 's mission is to serve as the lead land trust conserving and stewarding lands that support the scenic, recreational and environmental well-being of communities in Allegheny County and its environs. Allegheny Land Trust is an independent Pennsylvania nonprofit 501(c)(3) organization incorporated in 1993 to protect land of natural value in and adjacent to Allegheny County. ALT helps local people save local land that contributes to the scenic, recreational, educational and environmental wealth of our communities. We've protected more than 1,700 acres in Allegheny and Washington Counties.
Contact Information
416 Thorn Street
Sewickley, PA, 15143
412-741-2750
http://www.alleghenylandtrust.org
Organizational Information
Land Conservation Figures in PA
Acres Transferred to Public Agency†
Figures accurate as of 1/1/2020.
Notes
† Pertains to land that has been acquired by the land trust and then reconveyed to a local, county or state, state or federal government entity for conservation purposes.
‡ Pertains to assistance in transactions including preparation and negotiation work and/or the reconveyance of land to another private conservation organization.