Appalachian Trail Conservancy
Land Trust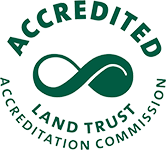 Mission or Purpose
The Appalachian Trail Conservancy is a volunteer-based organization dedicated to protecting, managing, and advocating for the Appalachian National Scenic Trail.
Contact Information
ATC Mid-Atlantic Regional Office
4 East First Street, P.O. Box 625
Boiling Springs, PA 17007
(717) 258-5771
https://appalachiantrail.org
Organizational Information
Land Conservation Figures in PA
Figures accurate as of 01/01/2020
Notes
† Pertains to land that has been acquired by the land trust and then reconveyed to a local, county or state, state or federal government entity for conservation purposes.
‡ Other pertains to assistance in transactions including preparation and negotiation work and/or the reconveyance of land to another private conservation organization.