Chestnut Hill Conservancy
Land Trust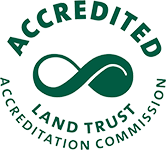 Mission or Purpose
The Chestnut Hill Conservancy is dedicated to preserving and nurturing the historical, physical, and cultural resources, and the character of Chestnut Hill.
Contact Information
8708 Germantown Avenue
Philadelphia, PA, 19118
215-247-9329
http://www.chhist.org
Organizational Information
Land Conservation Figures in PA
Figures accurate as of 01/01/2020
Notes
† Pertains to land that has been acquired by the land trust and than reconveyed to a local, county or state, state or federal government entity for conservation purposes.
‡ Other pertains to assistance in transactions including preparation and negotiation work and/or the reconveyance of land to another private conservation organization.