ClearWater Conservancy
Land Trust, Watershed Association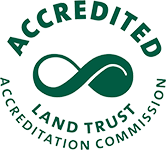 Mission or Purpose
The mission of ClearWater Conservancy is to conserve and restore our natural resources through land conservation, water resources stewardship, and environmental outreach across central Pennsylvania.
Contact Information
2555 N. Atherton St.
State College, PA, 16803
(814) 237-0400
http://www.clearwaterconservancy.org
Organizational Information
Land Conservation Figures in PA
Acres Transferred to Public Agency†
Figures accurate as of 05/28/2021
Notes
† Pertains to land that has been acquired by the land trust and then reconveyed to a local, county or state, state or federal government entity for conservation purposes.
‡ Other pertains to assistance in transactions including preparation and negotiation work and/or the reconveyance of land to another private conservation organization.