Land Trust of Bucks County
Land Trust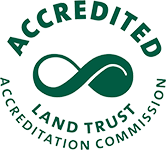 Mission or Purpose
We are committed to the protection and preservation of the agricultural heritage and rural lifestyle that still characterizes Bedminster and neighboring communities in upper Bucks County. To accomplish this, we must acquire conservation easements on land, either donated (and thus tax-deductible), or purchased. We educate landowners on the economic and ethical value of conservation easements, and encourage and help them to protect their properties. To this end, we have established an easement fund, and as it grows we will be able to purchase easement rights from those landowners who meet our criteria.
Contact Information
PO Box 208
Bedminister, PA, 18910
(215) 795-2352
https://landtrustbuckscounty.org/
Organizational Information
Land Conservation Figures in PA
Figures accurate as of 01/01/2020
Notes
† Pertains to land that has been acquired by the land trust and then reconveyed to a local, county or state, state or federal government entity for conservation purposes.
‡ Other pertains to assistance in transactions including preparation and negotiation work and/or the reconveyance of land to another private conservation organization.