North Branch Land Trust
Land Trust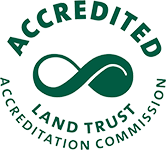 Mission or Purpose
The mission of North Branch Land Trust is to conserve the natural, working, and scenic landscapes in Northeastern Pennsylvania that enrich our lives.
Contact Information
251 Huntsville-Idetown Road
Dallas, PA, 18612
(570) 310-1781
http://www.nblt.org
Organizational Information
Land Conservation Figures in PA
Acres Transferred to Public Agency†
Figures accurate as of 01/01/2020
Notes
† Pertains to land that has been acquired by the land trust and then reconveyed to a local, county or state, state or federal government entity for conservation purposes.
‡ Other pertains to assistance in transactions including preparation and negotiation work and/or the reconveyance of land to another private conservation organization.