Wildlands Conservancy
Land Trust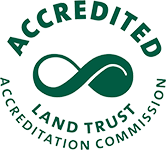 Mission or Purpose
The mission of Wildlands Conservancy is to preserve, protect, restore, and enhance the land, water, ecological, and recreational resources of the Lehigh Valley and the Lehigh River valley. The Conservancy fulfills its vision and mission through involvement with many partners in proactive education and advocacy programs, various land-protection and stewardship strategies, science-informed water quality and ecological restoration projects, comprehensive community-planning efforts, and greenway and recreational-trail development.
Contact Information
3701 Orchid Place
Emmaus, PA, 18049
(610) 965-4397
http://www.wildlandspa.org
Organizational Information
Land Conservation Figures in PA
Acres Transferred to Public Agency†
Figures accurate as of 05/28/2021
Notes
† Pertains to land that has been acquired by the land trust and then reconveyed to a local, county or state, state or federal government entity for conservation purposes.
‡ Other pertains to assistance in transactions including preparation and negotiation work and/or the reconveyance of land to another private conservation organization.