Willistown Conservation Trust
Land Trust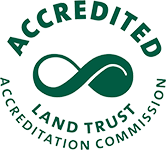 Mission or Purpose
The mission of the Willistown Conservation Trust is to preserve the open land, rural character, scenic, historic and ecologically significant resources of the Willistown area and nearby communities, with particular emphasis on the Crum, Ridley and Darby Creek watersheds.
Contact Information
925 Providence Road
Newtown Square, PA, 19073
(610) 353-2562
http://www.wctrust.org
Organizational Information
Land Conservation Figures in PA
Figures accurate as of 03/22/2021
Notes
† Pertains to land that has been acquired by the land trust and then reconveyed to a local, county or state, state or federal government entity for conservation purposes.
‡ Other pertains to assistance in transactions including preparation and negotiation work and/or the reconveyance of land to another private conservation organization.